About Us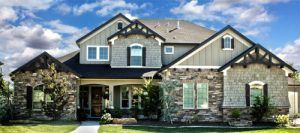 Proudly continuing a family legacy of quality homebuilding, Todd Campbell is a third generation builder and Boise native. Todd has been immersed in the homebuilding industry from a very early age. Riding to each jobsite with his grandfather as a toddler and later doing job clean up for the family business taught Todd the critical eye that it takes to be a quality builder. As a young adult Todd was given many more important job functions within the business. From estimating to developing relationships with suppliers and sub-contractors, Todd was tutored and mentored by some of the Treasure Valley's most respected building professionals.
In 1997, Todd graduated from the Eccles school of business at the University of Utah with a degree in finance with an emphasis is real estate. He excelled in courses such as real estate finance, real estate law and statistical analysis. The formal education he received helped him solidify his desire to be involved in the real estate and homebuilding industries.
In 2000, Todd established himself and his company as an independent home builder. Todd Campbell Construction was incorporated and the journey began. Todd has since been a market leader in the industry. Todd has been setting design and housing trends in the Treasure Valley with practical and innovative finishing touches to his homes. New and cutting edge is what Todd Campbell Construction has been recognized for throughout the years. It is not uncommon to see his competition "viewing" his homes to see what Todd is doing in new design and concepts.
Todd has been the recipient of countless awards by the Building Contractors association as well as recognized by the City of Boise as an innovative developer. From best overall in the parade of homes to several first place awards for kitchen design, master suite design, and exterior architecture are just a few of the categories that Todd has been recognized for. Along with his homebuilding expertise Todd also has a deep knowledge of real estate development. Having developed several communities throughout the treasure valley Todd knows what it takes to take a piece of land and create a unique, well designed place to call home.
Todd is often asked what is it that you like about home building and why do you like to build. He has answered this as follow: I truly love the creative aspect of the building process. Being able to take a home design that I have created in my head and to put it on paper and later to see an actual full size model is very fulfilling to me. Being directly involved in all decision making from colors and hard surface coverings to the landscape and exterior elevations helps me have a sense of creation and satisfaction. I have been asked what some of my hobbies are and when I answer with "work" I am not kidding around. I am very satisfied with the creation of a new home and I love to see a well thought out idea come to reality and delivered to someone as their new home to live it. The idea of having someone love what I do keeps me going and when a home is well received by the public I am honored to be able to create one more exceptional place to live for someone else.